Amazon: Ship Prime Same-Day Orders in ShipWorks
Before we take a look at how to ship Amazon Same-Day orders in ShipWorks, let's take a look at what is required to do so.
Your Amazon Seller Central account must be approved by Amazon for Amazon Prime Seller Fulfilled orders.
Your Amazon Seller Central account must be approved for Same-Day, Prime Seller-Fulfilled shipments.
Your Amazon Seller Central account must have Same-Day Expedited setup in the shipping settings.
Note: If you have questions on either of the above prerequisites (2 - 4), please reach out directly to Amazon.
If you have not done so already, please reach out to one of our awesome Customer Care representatives and ask them to enable Amazon shipping with your ShipWorks account. You can reach us here.
1. Amazon currently only supports Same-Day shipping in a select group of cities in the US. You can see the list of cities and check a zip code to see if Same-Day shipping is supported in that area here.
2. When shipping a Same-Day shipment in ShipWorks, the Dynamex Same Day option will only appear if the following are true: (all are visible in ShipWorks)
a. The shipment's To and From addresses are both in the same Amazon Same-Day supported city.

b. The order is flagged as a Prime order by Amazon.

c. The order is flagged as a Same-Day order by Amazon.

d. The order is being shipped within the Earliest and the Latest delivery times specified by Amazon.

click any of the above images to enlarge
Once all of the above requirements are met, you are ready to begin shipping your Amazon Seller-Fulfilled, Same-Day orders. Here's how:
1. Select the order for which you wish to ship using Amazon - Dynamex Same Day.
Note: You may wish to create an Amazon Prime filter to separate out all of your Amazon Seller-Fulfilled, Same-Day orders from your other orders in ShipWorks.
2. This the order selected, click on the Home tab and then click on the Ship Orders button. You can also right click on the selected order and select Ship Orders from the menu.
Notice
Shipping Amazon Same-Day orders is not supported in the Shipping Panel (v5.2 or greater).

3. If required, on the Ship Orders screen, select Amazon form the Provider drop-down menu.

4. Dynamex Same Day will be the default shipping method and the Service drop-down menu will be disabled.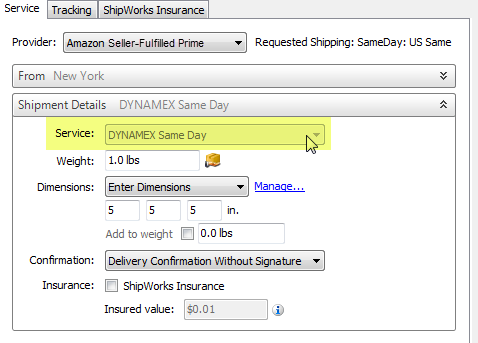 5. Verify that all other shipping details in the Shipment Details section are correct.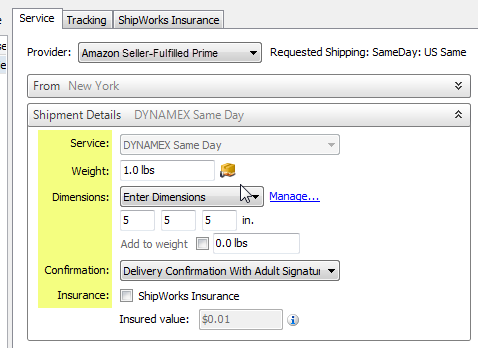 6. Once all of your shipment details are correct, click on the Create Label button to generate your shipping label.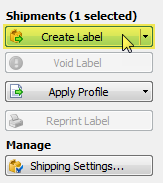 Your label will now print to the standard printer.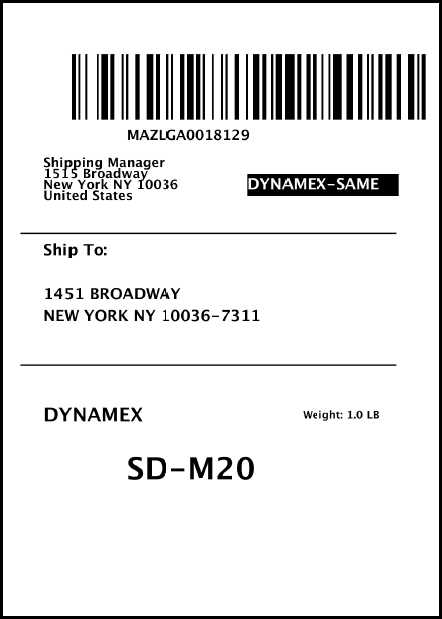 Still Need Help?
Please feel free to reach out to one of our awesome Technical Support Representatives in St. Louis.  We are happy to help.
Have a comment to share about this article? We'd love to hear from you. You must be logged in to your Support Portal account to leave a comment.