This article discusses how to perform the Close process for FedEx SmartPost shipments (SmartPost shipments processed in the last 24 hours). A SmartPost Close must be performed in order for the FedEx system to become aware of the package before it is scanned at the SmartPost facility.
Although you can perform this procedure at any time of day, it is recommended that you perform this procedure at the end of the day. Use the Close procedure to initiate the final stage of processing all shipment data for the day (close of business).
1. Click on the Home tab and then on FedEx Close.
2. Select SmartPost Close. (This generates a manifest report that includes all FedEx Ground shipments generated during the last 24 hours.)

3. A dialog box appears informing you when the process is successful.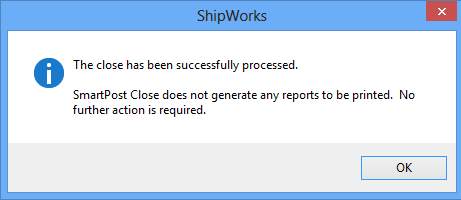 Still Need Help?
Please feel free to reach out to one of our awesome Technical Support Representatives in St. Louis.  We are happy to help.
Have a comment to share about this article? We'd love to hear from you. You must be logged in to your Support Portal account to leave a comment.