The ShipWorks process for shipping internationally to Mexico is much the same as shipping any international package. However, as of January of 2023, the Mexican Tax Authority adopted the Carta Porte requirements, which mandate that all shipments to and within Mexico include a Package Description field that accurately describes the contents of the shipment. This description is in addition to the customs forms item descriptions and applies no matter which carrier you are shipping with.
Important Dates
March 20th, 2023: UPS will require the Package Description field for all shipments to Mexico. If the Package Description field is not filled in when shipping with UPS to Mexico, you will receive an error and will not be able to create the label.

August 1st, 2023: The Mexican Tax Authority will begin enforcing the Carta Porte requirements. Shipments that do not comply with these requirements will be subject to delays as well as penalties from the Mexican Government.
To ensure your shipments to Mexico meet these requirements, please be sure that a correct package description is entered into the Description: field in the General section of the Customs tab.
When you configure an international shipment to Mexico, you'll see a Description: field in the General section of the Customs tab.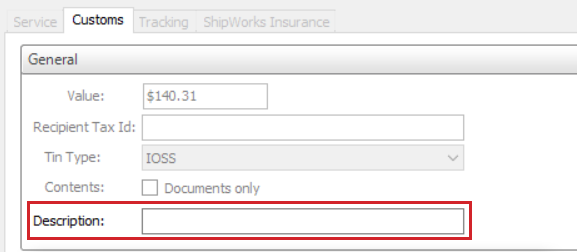 Add a summary of the package contents, keeping the following in mind:
The description can be a maximum of 35 characters

Single shipments containing multiple packages to Mexico are not allowed. Please create a separate shipment for each package.
Still Need Help?
Please feel free to reach out to one of our awesome Technical Support Representatives in St. Louis.  We are happy to help.
Have a comment to share about this article? We'd love to hear from you. You must be logged in to your Support Portal account to leave a comment.