The Global Advantage Program (GAP) is a way for you to ship internationally that takes advantage of the trusted USPS delivery network while benefiting from the discounts and ease of use provided by GlobalPost.
When selecting USPS First-Class International, Priority International, or Priority Express International services from a connected Stamps.com account or from USPS from ShipWorks, you will automatically receive a GAP label for your shipment.
Think of GAP as an augmented USPS service that provides the following benefits:
Up to 65% in savings over the retail USPS Package shipping cost

Automated customs forms

Included loss/damage coverage ($100 for First-Class packages and $200 for Priority packages)

Shipping merchandise in flats

Proof of delivery

Instant refunds for voided labels

The option to prepay duties & taxes for US to Canada shipments with a flat fee

Free upgrades to PMEI on select PMI parcels (call 1-888-899-1255 to see if you qualify)
Even more savings with SmartSaver!
Merchants that ship 5+ international shipments a day on average can realize even more savings with the SmartSaver program. See the SmartSaver section below for details on how to apply if you think you may qualify.
First, you'll create the shipping label with the USPS international service as you normally would. USPS will then direct the shipment to a domestic GlobalPost sorting facility. There, your international shipment will be relabeled for its destination, receive the appropriate customs forms, and then be sent to its final destination.

This means the label you print will be a domestic label addressed to the Postal Processing facility instead of the final destination.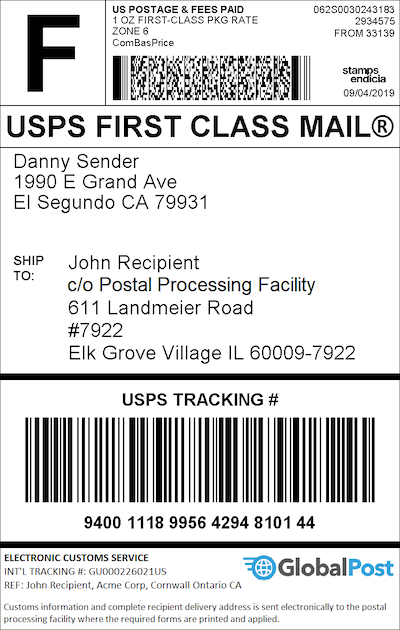 For businesses that ship 5 or more international shipments per day, you may qualify for the SmartSaver program, which offers an additional 15% in savings on GAP labels.
With SmartSaver, you consolidate your individual international parcels into a single, larger container. You then send the container to the processing facility where the individual shipments will be sorted and sent to their final destination.
To see if you are eligible for SmartSaver, call 1-888-899-1255 to speak to a GlobalPost team member, or fill in the online Contact Us form to be contacted by the sales team. If filling in the form, include "SmartSaver Inquiry" in the Subject field, then choose General Questions for the Inquiry Type and ShipWorks as your Shipping Platform.
SmartSaver offers three options:
SmartSaver Pickup™ – GlobalPost will pick up your consolidated shipments from your warehouse and transport them to the closest processing facility the same day.

SmartSaver Bundle™ – Consolidate your individual shipments into one or more large containers and ship them to the GlobalPost processing facility with a container shipping label, provided at no additional cost.

SmartSaver Drop-off – Use your own carrier to ship your consolidated shipments to the GlobalPost processing facility. This option offers the deepest discounts!
Each option differs slightly, so you'll work with a representative to determine the right solution for your business. They will then provide you with detailed instructions on how to create the right labels for the individual shipments and containers.
In ShipWorks, you will always create GAP labels by choosing USPS First-Class Int'l, Priority Int'l, or Priority Express Int'l from either a connected Stamps.com account or from USPS from ShipWorks. The GAP labels for the individual packages will print with the international destination address for each shipment but must be consolidated into the container with the domestic container label. Once SmartSaver is enabled for you, all GAP labels will be SmartSaver and you will no longer be able to create single-piece GAP labels.
GAP shipments that include door-to-door tracking are protected from loss or damage by GlobalPost. Door-to-door tracking is included automatically for both Priority and Priority Express services. To add door-to-door tracking to USPS First-Class Mail Int'l shipments, you must add Delivery confirmation.
You can file a claim for covered shipments within 90 days of the shipment date.
Requirements for filing a claim:
All claims must be filed by the shipper, not the recipient.

Claims for damage can be submitted at any time. Claims for lost packages cannot be submitted until 30 days after the shipment date.

All claims must be submitted within 90 days after the shipment date.
To file a GAP claim:
Go to the GlobalPost Claim Form page (all GAP claims are managed by GlobalPost).

Fill in the online form:

You will need a good contact email, the shipment tracking number and shipment date, and claim amount.

Do not include the shipping cost when filling in the Claim Amount field. If the claim is approved, the shipping cost will be added to your total payment.

For damage claims, upload an image of the damaged shipment.
Once a claim has been approved, the refund will be immediately credited to your shipping account. It can take up to 3 weeks for a claim to be processed. Please contact GlobalPost if you have not received a response to your claim within 3 weeks.
If you feel your claim was incorrectly denied, please submit a new claim with new or updated information.
The international tracking number on the GAP label will track the package to the sorting facility and may track the package to the destination country as well, depending on the country.

If you receive an error when you attempt to get a rate or when you attempt to create a label, you may be using a Stamps.com account with a negotiated service agreement.

If this is the case, your Stamps.com account may not be eligible for the Global Advantage Program. Please contact your Stamps.com representative for further information.

For help with tracking or technical support on Global Advantage Program shipments, email GAPsupport@stamps.com.
Still Need Help?
Please feel free to reach out to one of our awesome Technical Support Representatives in St. Louis.  We are happy to help.
Have a comment to share about this article? We'd love to hear from you. You must be logged in to your Support Portal account to leave a comment.