Set Reports to Run Automatically
One of the ways you can use the Action Editor is to run reports on demand or after specific activities occur in the system, or at particular scheduled times. You can then set up the report to be saved, e-mailed to the address(es) of your choice, printed, or uploaded via ftp.
Reports can be set to be triggered by certain activities in ShipWorks, such as orders downloaded, shipments processed, shipments voided, and more. You can also configure reports to run automatically at scheduled times each hour, day, week, or month. This feature is about as flexible as it gets.
In this example, you can see the configuration of a Profit and Loss Report, to be run once only and saved to a particular location on your network.
2. Click the New Action button.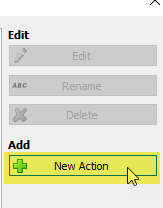 3. Use the Name textbox at the top of the screen to name your action. In this example, we're naming it Saving Profit and Loss Report.

4. Select A scheduled time from the When the following occurs: drop-down menu.

5. Select One Time from Run this action:
This is where you could set ShipWorks up to run the report automatically on an hourly, daily, weekly, or monthly basis. You'd just select the preferred frequency from the drop-down menu.

6. Modify the Start: date and time to specify when you want your action to be performed. You are now ready to create the task. (Your action will not be functional until you add a task .)
7. Click the Add Task button and then select the output method you want. In this example, we're selecting Save a File.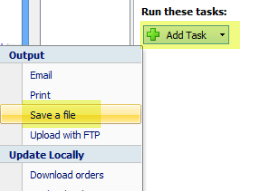 8. Select Save using "Everything in" and then use the drop-down to select an existing filter or create a Quick Filter from right here in the Action Editor. This will select the order(s) that will be included in the saved file.
Note
If under "When the following occurs" you'd chosen an activity related to only one order or shipment, you will see a slightly different line here. You can choose Save using: "The shipment" or "The Order" to run the report on just the one order, or you can click The shipment or The order and change it to Everything in and use a filter.
In this example, we've opted to save a file that covers everything in the "Shipped" filter that had already been created.

9. In With template:, use the drop-down to select the report template you want to use.
In this example, we've selected a Shipping Profit and Loss template.

10. (Optional) You can assign more than one task to an action. If you want to save more than one report (at the same scheduled time), click Add Task again and repeat steps 1-3 as necessary.
11. Click OK to save your action.
Still Need Help?
Please feel free to reach out to one of our awesome Technical Support Representatives in St. Louis.  We are happy to help.
Have a comment to share about this article? We'd love to hear from you. You must be logged in to your Support Portal account to leave a comment.