UPS: Add an Existing Account to ShipWorks
ShipWorks' integration with UPS provides you with the ability to select service options and print shipping labels without having to export data or cut-and-paste information into other applications. Identify all the available UPS domestic and international services, display your UPS account's shipping rates based on package specifications, and view the UPS Time in Transit to quickly identify the method of service that is best suited for each shipment.
This article will guide you through how to add your existing UPS account to the ShipWorks software.
You will also need your UPS account credentials and information available so that you can enter the correct information into ShipWorks when prompted.
2. Select UPS from the list of shipping providers on the side navigation of the Shipping Settings screen.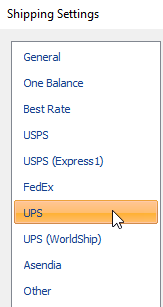 3. Click on the Setup button, with UPS selected.

3a. OPTIONAL: Add an additional UPS account.
Click on the Add button if you already have a UPS account added to ShipWorks and are adding an additional UPS account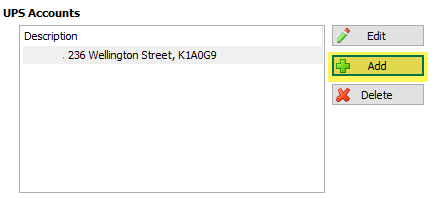 4. Enter your UPS account number into the Enter Your UPS Account Number field on the Account Registration page, and then click Next.


5. Review the UPS Agreement and select the option for Yes, I accept the agreement, then click Next.

Print Agreement
If you wish, you can print the Agreement by clicking on the Print Agreement button.
6. Enter your UPS account information. All fields are required. Then, click Next.
7. Select how your UPS rates display in ShipWorks on the Configure how ShipWorks displays shipping rates screen. Then, click Next.
This screen does not affect what rates you are charged by UPS, only how your rates are displayed for you inside of ShipWorks.
OPTIONAL: Select the Negotiated (account based rates) option if you have negotiated rates with ShipWorks and then follow the steps in our UPS: Display Negotiated Rates article.
DEFAULT: Otherwise, in most cases, you can leave the default rate type of Daily Pickup.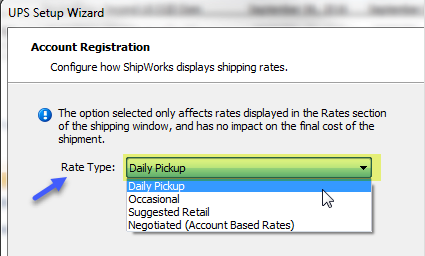 8. Select your label format, then click Next.
The Labels screen allows you to specify the label format you need for the type of printer you will be using.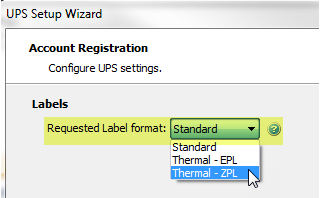 Standard Inkjet or Laser printer - Select Standard

Most newer thermal printers (Zebra 450, 500, etc) - Select Zebra (ZPL)

Older thermal printers (Zebra 2844, etc) - Select Zebra (EPL)

9. OPTIONAL: Activate the ShipWorks Exclusive UPS Discounts Program in ShipWorks.
As a ShipWorks customer, you are eligible for the UPS Discounts Program as long as you do not already have a customized shipping agreement with UPS. For more information on how to activate the ShipWorks Exclusive UPS Discounts Program,see 'When Adding a UPS account to ShipWorks' here.. Then, continue with the following steps in this article.
UPS Savings Program requires ShipWorks version 5.9 or greater
Registering for the ShipWorks Exclusive UPS Savings Program requires ShipWorks version 5.9 or greater. You can check your version of ShipWorks by clicking on Help > About ShipWorks. Please also reference How Do I Upgrade ShipWorks? for additional assistance with upgrading.
10. Configure your origin address on the Origin Address screen.
This screen allows you to enter multiple origin or from addresses that you can use when shipping. To add a new address, click the New button. Otherwise, click Next.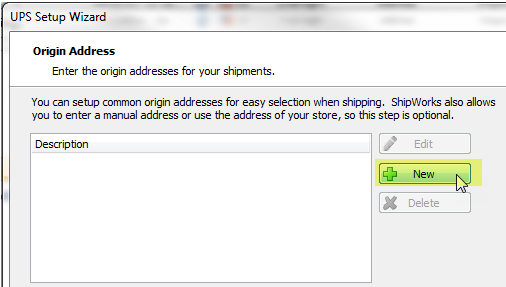 11. OPTIONAL: Set the base defaults for UPS. Otherwise, just go to step 12.
The Shipment Defaults screen allows you to set the base defaults that are selected when shipping with UPS and to add additional shipping rules used to select additional defaults. ShipWorks User Guide - Shipping Rules are outside of the scope of this article. However, let's talk about setting your base defaults for UPS.
11a. Click the blue link for Defaults - UPS.

11b. Select your most commonly used UPS settings in each section on the Shipping Profile screen. Click OK and then Next when you finish setting your defaults.
There are two tabs at the top of the Profile screen. The Packages tab allows you to specify specific package defaults such as weight and dimensions.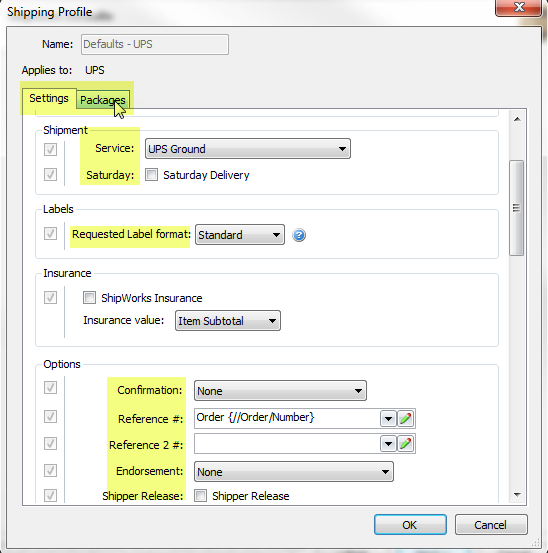 If a particular option does not apply to you, you can feel free to skip it. Nothing is required. This screen simply allows you to set the most commonly used UPS options.
Saturday Delivery
Enable this option for guaranteed package delivery on a Saturday. You must select this option to guarantee Saturday delivery. If this option is not selected, the package will not be eligible for a UPS Guaranteed Service refund, even if the estimated delivery date shows an estimated delivery on a Saturday.
12. Specify on the Printing Setup screen whether or not ShipWorks should automatically print your shipping labels after processing, and configure how ShipWorks handles the printing of your labels.
Return Labels: If you will be automatically generating return shipping labels to include in your shipments and you wish for the return labels to automatically be printed, check the box for Automatically print return shipping labels after processing.

We recommend leaving the default settings for the remainder of the options on this screen.
After clicking the Next button, you may be prompted to select the printer(s) to which you wish to print your shipping labels.
Labels\Thermal - Select the thermal printer with which you will print your UPS labels. If you do not use a thermal printer, just click Use Default.

Labels\Standard - Select your standard laser or inkjet printer.

Labels\Commercial Invoice - Select your standard laser or inkjet printer.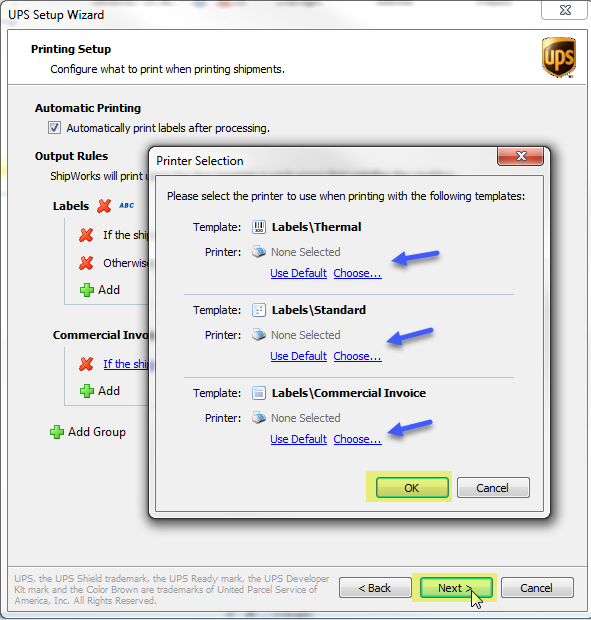 13. Configure an email address in ShipWorks so that you can send emails to your customers on the Processing Setup screen (OPTIONAL), and set the default Local Status for orders after you process a shipment.
Email,OPTIONAL: If you wish to configure an email account with ShipWorks, see our article Adding Your Email Address to ShipWorks.
Local Status - We recommend the default settings.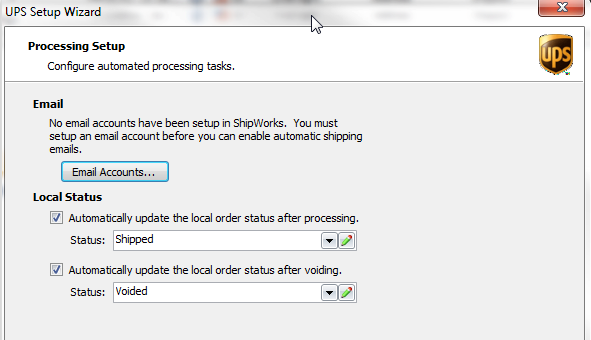 14. Click Finish. Then click Close.
That's it! You are set up and ready to start printing labels with UPS.
Still Need Help?
Please feel free to reach out to one of our awesome Technical Support Representatives in St. Louis.  We are happy to help.
Have a comment to share about this article? We'd love to hear from you. You must be logged in to your Support Portal account to leave a comment.