UPS International: Printing UPS Customs Forms (Commercial Invoices)
UPS international shipments require customs forms, also known as Commercial Invoices. You may be able to send customs forms electronically, or you may need to print copies to include with your shipments.
The great news is that when processing UPS international shipments with ShipWorks, all the forms you need will be either automatically submitted electronically (for supported countries) or automatically printed for you. However, you may still have questions related to how many forms should print and what forms to include with your shipment.
This article will give you more information to help make shipping internationally a bit easier.
ShipWorks is configured so that, in the event that a printed Commercial Invoice is required to be included with an international shipment, the Commercial Invoice will be printed automatically for you. However, if you find that you need to print a Commercial invoice manually, you can do so by following the instructions found below.
Note
Keep in mind that when submitting forms electronically, it may not be necessary to include a copy of the commercial invoice with the shipment. In general, when submitting forms electronically, UPS confirms the successful transmission and receipt of the electronic forms by including EDI on the printed shipping label.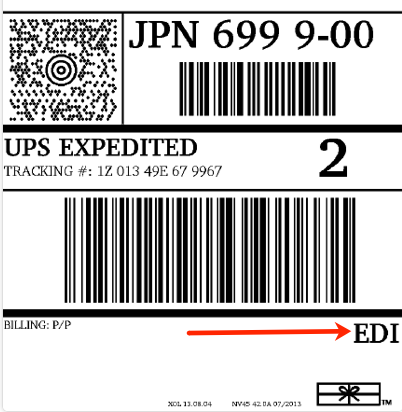 If you see INV instead of EDI in this location, that means the customs form will not be submitted electronically to UPS.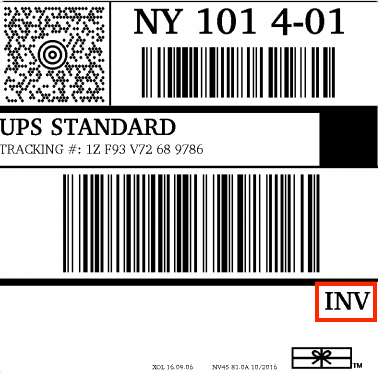 MANUALLY PRINTING A COMMERCIAL INVOICE
You can manually print a commercial invoice for a processed international shipment by:
1. Select the order for which you wish to print a commercial invoice.
2. Click on the Output tab. Then, click the Print button and select the Labels > Commercial Invoice template from the list of available templates.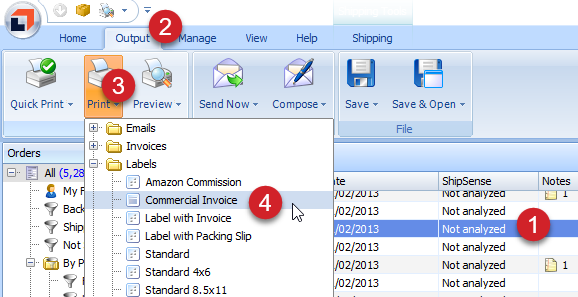 3. Select the printer to which you wish the commercial invoice to print and then click the Print button.
The printed commercial invoice will look like this:
With Paperless Invoicing enabled, and when shipping to a supported country, your Customs Forms will be automatically sent to UPS electronically when processing your labels.
Note
When shipping with One Balance, UPS from ShipWorks does not support Paperless Invoicing.
To enable Paperless Invoicing as a default, so that it is automatically turned on when processing UPS international shipments:
2. Select UPS from the list of available carriers and then click on the blue link for Defaults - UPS.

3. Scroll down on the Settings tab to the Options section and check the box for Paperless Invoice.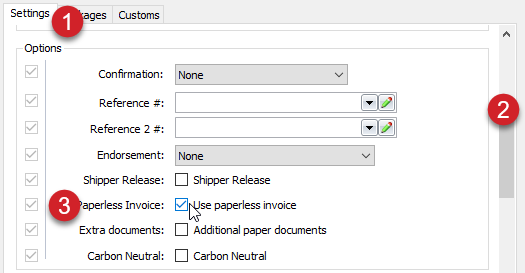 Still Need Help?
Please feel free to reach out to one of our awesome Technical Support Representatives in St. Louis.  We are happy to help.
Have a comment to share about this article? We'd love to hear from you. You must be logged in to your Support Portal account to leave a comment.