Shopify: Add a Store in ShipWorks
Shopify is a complete ecommerce platform that lets you start, grow, and manage a business. Create an ecommerce website backed by powerful tools that help you find customers, drive sales, and manage your day-to-day.
ShipWorks connects directly to your Shopify store via the Shopify API. With one click, or on an automated schedule, your orders are downloaded from Shopify. As soon as you process a shipment, ShipWorks communicates the updated order status, shipping method and tracking information back to Shopify.
This article will guide you through the steps of adding your Shopify store to the ShipWorks software.
Note: Version 5.15 or later of ShipWorks now supports downloading the barcode field from Shopify into ShipWorks. For assistance with upgrading to the latest version of the ShipWorks software, please see this article.
Before continuing, please be sure that you have the following:
1. Your Shopify administrator username and password.
2. Have ShipWorks installed and logged in as a user with administrator rights.
3. On the Store Setup screen, click on the Create Login Token button.

4. On the Shopify Login Token screen, fill in the Shopify Address field with your Shopify store address. You only need enter the name of your Shopify store, which is the portion of the address before .myshopify.com.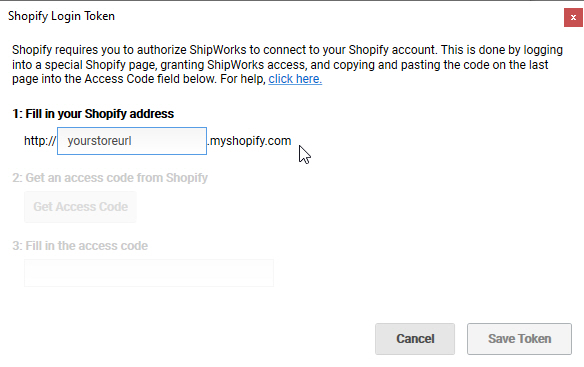 Locate Your Store URL
Log in to your Shopify store admin panel. Click on the View your online store icon to the right of Online Store in the Sales Channels section. This will open your store in a new window. Your store URL is displayed in the address bar of the new browser window.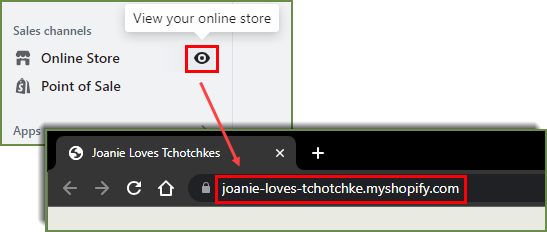 5. Click the Get Access Code button.

6. A new browser window will open with the administrator login page for your Shopify store. Enter the login email and click the Next button.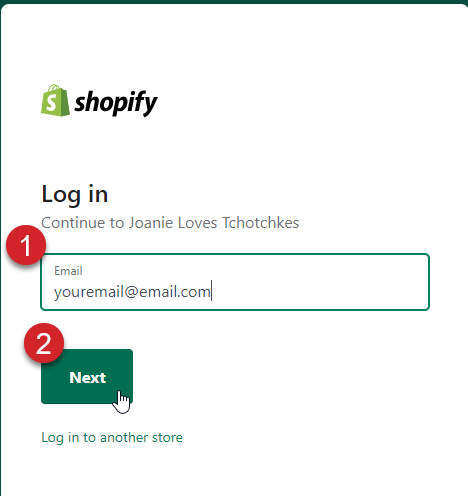 7. Enter your Shopify password. Then, click the Log in button.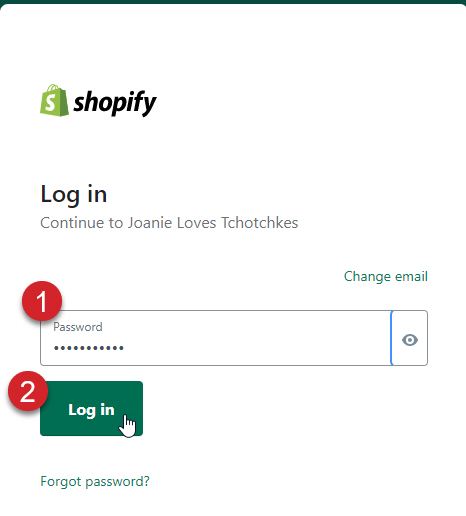 8. Click the Copy access code to clipboard button. Then, switch back to the ShipWorks software.

9. Paste the code you just copied into the Fill in the access code field. Then, click the Save Token button.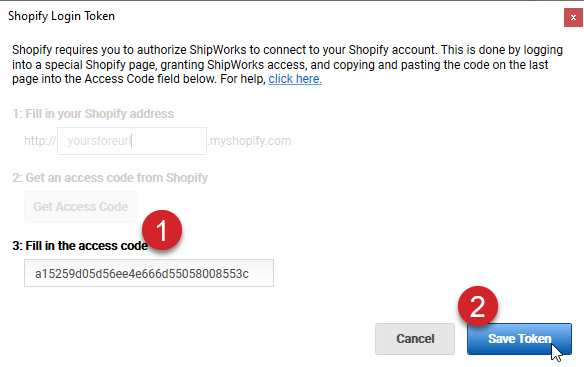 10. To the right of the Create Login Token button, you will be notified that you are now authorized to connect to your Shopify store. Click Next.


Great! You are connected. Now, you will need to fill out a few more screens.
Great! You are connected. Now, you will need to fill out a few more screens.
1. On the Store Information screen, enter your Store Name: and Address:. Then, click Next.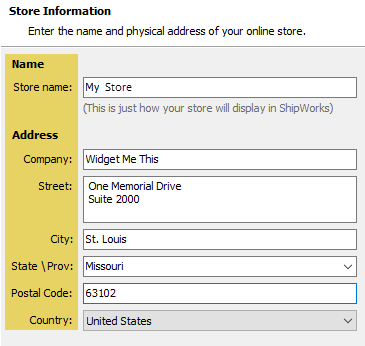 2. Enter the additional Contact Information: for your store. Then, click Next.
Note: This information is optional.

Still Need Help?
Please feel free to reach out to one of our awesome Technical Support Representatives in St. Louis.  We are happy to help.
Have a comment to share about this article? We'd love to hear from you. You must be logged in to your Support Portal account to leave a comment.