OnTrac is the faster, more affordable ground shipping option in the Western United States. Ground shipments that take two days with national carriers arrive overnight with OnTrac.
ShipWorks' integration with OnTrac allows you to process OnTrac shipments quickly and easily from right inside of the ShipWorks software. This article will guide you through the process of adding your OnTrac account.
Before adding your OnTrac account to ShipWorks, please be sure that:
You are logged in to ShipWorks as a user with administrator rights.

That you have your OnTrac account number and API password available.

If you do not yet have an OnTrac account, we will guide you to the right place so that you can open an account.
2. Select OnTrac from the list of the available shipping providers on the left side of the Shipping Settings screen. (If OnTrac is not available in the list, click on the General link and then make sure that OnTrac is checked in the list of Available Providers.)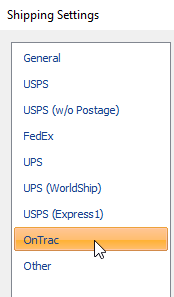 3. Click the Setup... button.

4. The Setup OnTrac Shipping wizard will now guide you through the OnTrac setup process. If you do not yet have an OnTrac account, please click the link www.ontrac.com and you will be taked to the OnTrac website where you can sign up for an account.
Otherwise, click the Next button.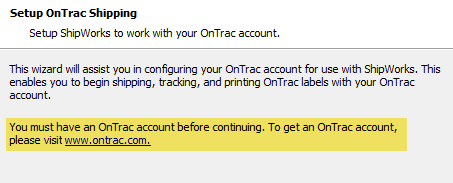 5. Enter your OnTrac Account #: and API Password: into the appropriate fields. Then, click Next.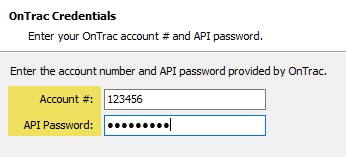 6. Enter the information associated with your OnTrac account. Then, click Next.
Note: You can easily import your address information from your store setup by clicking on the Store link near the top of the screen.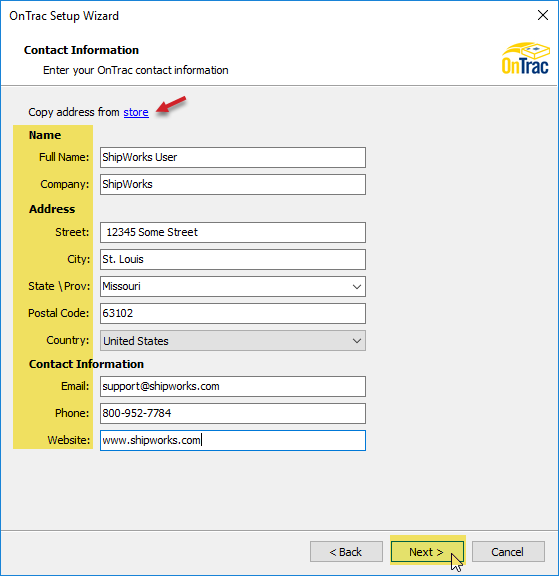 7. Select the lable format for the type of printer you will be using to print your OnTrac labels from the Requested Label Format: drop-down menu. The following options are available to you:
Standard - Select this option if you will be printing your labels to an inkjet or laser printer.

Thermal (EPL) - Typically used when printing labels with older thermal printers such as the Zebra 2844.

Thermal (ZPL) - Used when printing thermal labels using most newer thermal label printers such as the Zebra zp450 and zp500.
Please consult with the manufacturer or with the documentation for your specific printer if you are unsure of which option to select.

Once you have selected the correct label format, click Next.

8. On the Shipment Defaults screen, you have the option of configuring the most commonly used settings when shipping with OnTrac (weight, dimensions, etc). To configure these default settings, click on the blue link for Defaults - OnTrac. Then, enter the value(s) for your default setting(s). Click OK. Then, click Next.
Additional Default and shipping rules are outside of the scope of this article. However, if you would like to learn more you can do so by reading about Shipping Rules.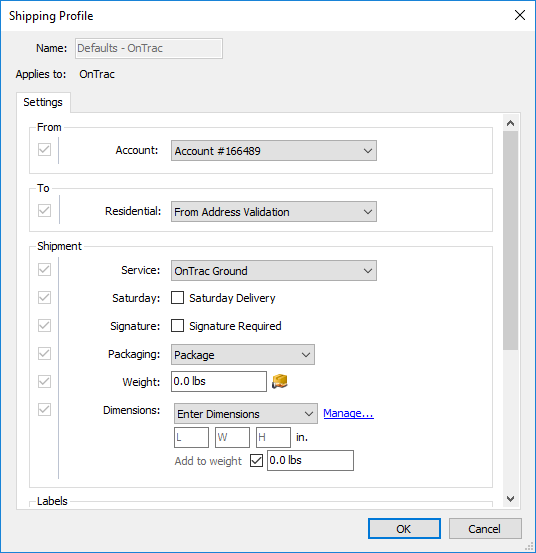 9. The Printing Setup screen allows you to specify whether or not ShipWorks should automatically print your shipping labels after processing and to configure how ShipWorks handles the printing of your labels. We recommend leaving the default settings on this screen. Click Next.
If you have not already done so, ShipWorks will prompt you to select the printer that you will use to print your OnTrac shipping labels.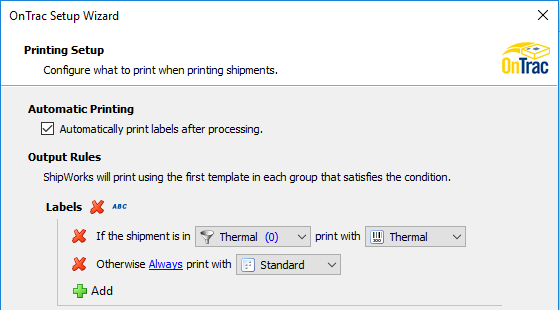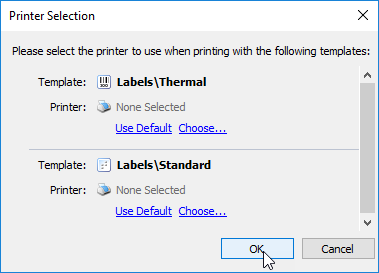 10. The Processing Setup screen allows for you to add and configure an email address in ShipWorks, set automatic email notifications, and to tell ShipWorks to what status the order should be set when processing or voiding a label. For the Local Status settings, we recommend leaving the defaults. For more information on how to configuring an email address and setting up shipment notification emails, you may be interested in the following articles.
Add Your Email Address to ShipWorks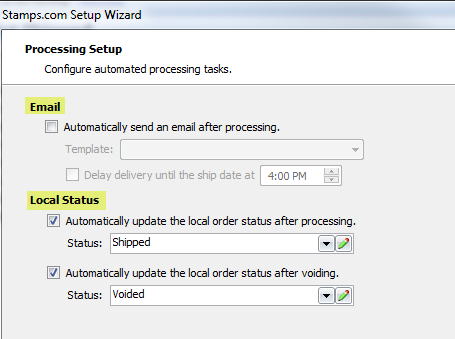 11. Click Next and then Finish. OnTrac is now configured with ShipWorks.
Additional Settings
You can control which services and package types are available to you when shipping a package with OnTrac. In the Available Services and the Available Package Types section, simply uncheck any options you wish to not have available to you when shipping.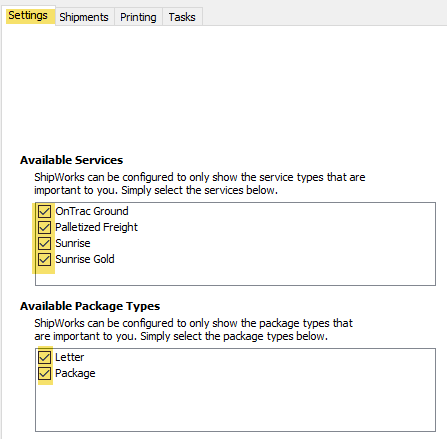 Still Need Help?
Please feel free to reach out to one of our awesome Technical Support Representatives in St. Louis.  We are happy to help.
Have a comment to share about this article? We'd love to hear from you. You must be logged in to your Support Portal account to leave a comment.