eBay: View the Order ID in ShipWorks
In addition to the eBay order number and sales record number, ShipWorks now also displays the eBay Order ID (this is the eBay order number displayed when viewing your orders in eBay on the eBay dashboard). This article will guide you through how to display the eBay Order ID field in ShipWorks and how to search for orders by the eBay Order ID.
You can add a column to the main orders grid on the Home tab in ShipWorks. Here's how:
1. Click on the View tab and then on the Grid Columns button.
2. Scroll down in the list of available columns and ensure that the eBay Order ID column is checked.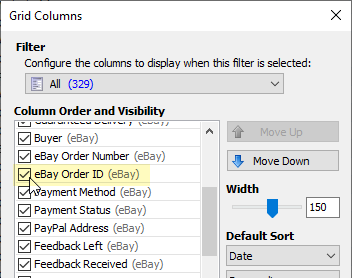 3. Optionally, you can rearrange the order in which the columns are displayed in the orders grid using the Move Up and Move Down buttons.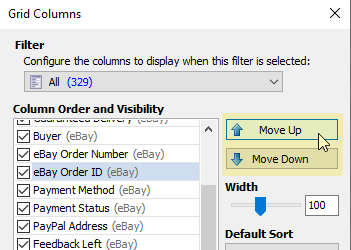 The eBay Order ID will now be displayed in the orders grid on the Home tab.
Still Need Help?
Please feel free to reach out to one of our awesome Technical Support Representatives in St. Louis.  We are happy to help.
Have a comment to share about this article? We'd love to hear from you. You must be logged in to your Support Portal account to leave a comment.