Creating an International Filter
Many clients need to view their domestic (ship to) shipments separately from their international (ship to) shipments.After setting up a filter for international shipments, you will be able to "see" all shipments with the Ship To address listed as outside of the United States simply by clicking on that filter.
This will walk you through the process of creating a filter for international shipments. This example assumes that international shipments are outside of the United States. If you need to create an APO/DPO/FPO filter, see page 37 of our Filters Guide.
By default, ShipWorks creates an international filter whenever you install it. It is located in the Examples folder in your Filters panel (View Show Panels Filters Panel).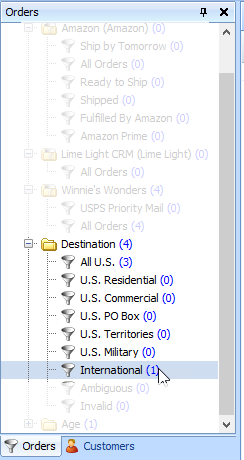 1. In ShipWorks, go to Manage Filters.
2. In the Filter Organizer window, click New Filter.
3. Name your filter something appropriate (like "International").
4. On the Filter Condition screen, click the Add Condition (

).
5. Click Order Total Person Address Country.
6. Click the Shipping or Billing link and select Shipping.
7. Click Equals link and select Does Not Equal, and type United States in the text box. Your filter should reflect the conditions in Example 1.1.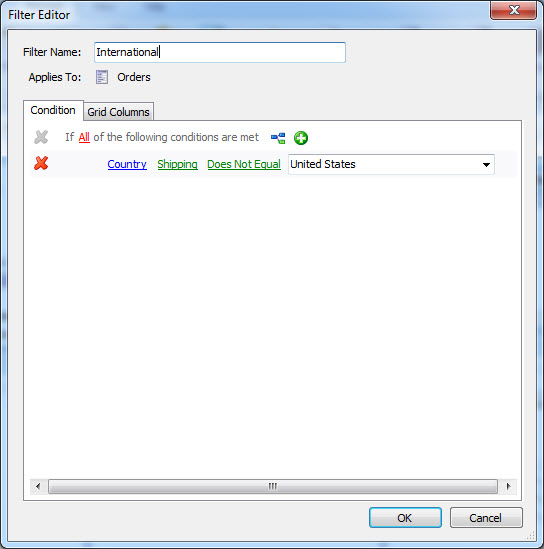 Example 1.1: The conditions of a filter for domestic orders.
8. Click Next and Finish.
Still Need Help?
Please feel free to reach out to one of our awesome Technical Support Representatives in St. Louis.  We are happy to help.
Have a comment to share about this article? We'd love to hear from you. You must be logged in to your Support Portal account to leave a comment.