After installing the ShipWorks software and logging in, ShipWorks opens the Quick Start - Welcome to ShipWorks screen so that you can quickly complete your ShipWorks setup.
The Quick Start screen gives you links to perform several setup tasks. However, the next step in configuring ShipWorks is to connect your stores and sales channels. We will take a look at all of the available options on the Quick Start screen later in the setup process.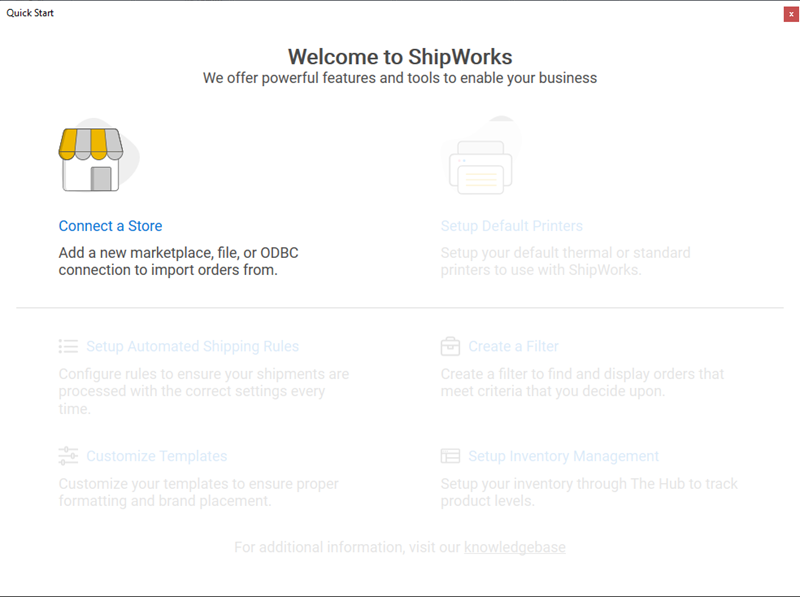 A Manual Store was created for you.
What if you are not ready to connect ShipWorks directly to an online store or marketplace? Maybe you wish to just check out ShipWorks so that you can be sure that it is the right software for your needs.
No problem. When you installed ShipWorks, a manual store was created for you so that you could jump right into exploring the many features ShipWorks has to offer. Learn more about manual stores by checking out this article.
Click Connect a Store on the Quick Start screen.

Select the sales channel you wish to connect to from the What platform do you sell on? drop-down menu. Then, click the Next button. A store specific setup wizard will launch.

Follow the steps in the store setup wizard to complete adding the store to ShipWorks.
Adding more than one store? Just click on the Connect a Store link again and follow the same steps as above.
View Your Stores in ShipWorks
Did you know that you can view and edit your stores in ShipWorks? You can. Click on the Manage tab then on the Stores button to launch the Manage Stores dialog.

Still Need Help?
Please feel free to reach out to one of our awesome Technical Support Representatives in St. Louis.  We are happy to help.
Have a comment to share about this article? We'd love to hear from you. You must be logged in to your Support Portal account to leave a comment.