Deleting an order in ShipWorks is easy--retrieving accidentally deleted orders isn't. Make sure that you verify that the order you select is the order you really want to delete--it is difficult (if not impossible) to retrieve an order once it has been deleted from ShipWorks.
1. In ShipWorks, select the order you want to delete.

2. With the order selected, click on the Home tab and then, in the Orders section, click on the Delete button.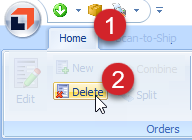 3. When prompted, click OK. Again, be sure that you truly wish to delete this order as it may not be possible to retrieve it.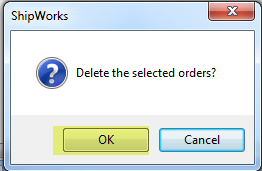 Still Need Help?
Please feel free to reach out to one of our awesome Technical Support Representatives in St. Louis.  We are happy to help.
Have a comment to share about this article? We'd love to hear from you. You must be logged in to your Support Portal account to leave a comment.