Asendia: Add to ShipWorks
Asendia USA (an alliance between La Poste and Swiss Post) is the largest international mail consolidation service for USPS. Asendia offers major discounts on USPS international services, supports labels with special characters, and automatically closes End of Day forms. ShipWorks' integration with Asendia USA allows you to create international shipping labels destined for anywhere in their extensive delivery network.
Before adding your Asendia account to ShipWorks, please be sure that:
2. Select Asendia from the list of shipping providers on the left side of the Shipping Settings screen. Then, click the Setup... button.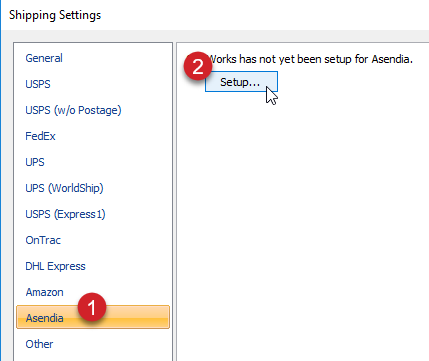 3. Enter your Asendia Account Number, Username, and Password. Then, click the Next button.
(If you need to open a new Asendia account, click on the blue click here link to be taken to the Asendia Contact page from which you can reach out to Asendia regarding opening an account.)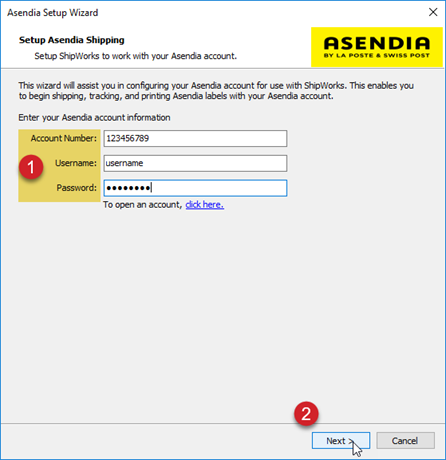 4. Fill out the Name, Address, and Contact Information. Then, click Next.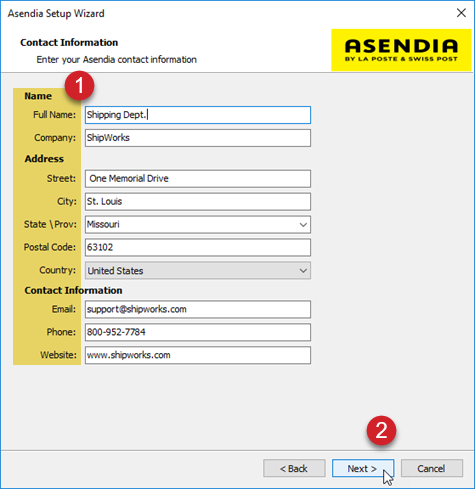 5. The Shipment Defaults screen allows you to configure the default settings that will be automatically applied when creating an Asendia shipment. To configure the defaults, click on the Defaults - Asendia link. Click Next.
(It is also possible to configure shipping rules for Asendia from this screen. However, shipping rules are outside of the scope of this article. To learn more about Shipping Rules, see ShipWorks User Guide - Shipping Rules.)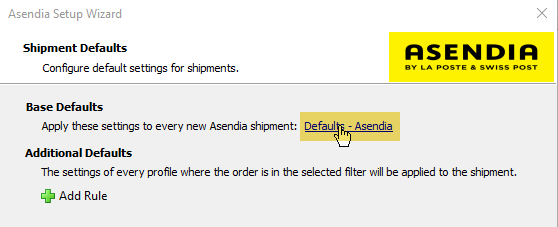 6. We recommend leaving the default settings on the Printing Setup screen. This screen allows you to specify whether or not you wish for the Asendia labels to print automatically when you process the shipment and to specify to which printers the labels should print.
Click the Next button. If you have not yet selected your standard (inkjet or laser) and/or Thermal printer(s) you will be prompted to do so now.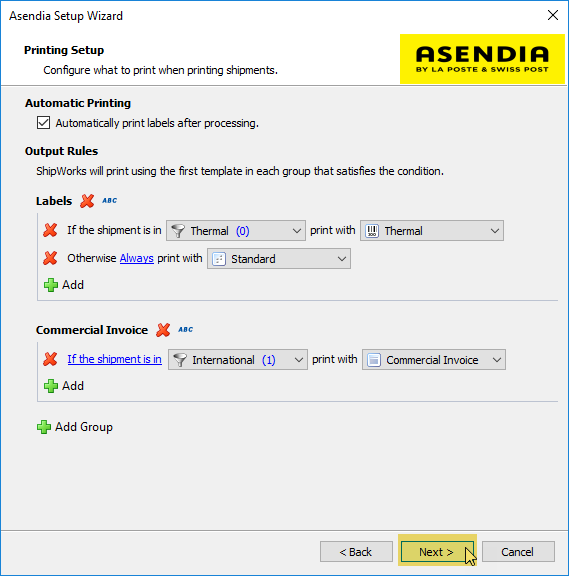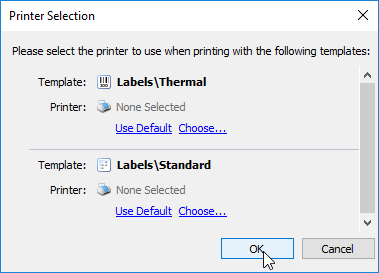 7. The Processing Setup screen allows for you to add and configure an email address in ShipWorks, set automatic email notifications for Asendia shipments, and to tell ShipWorks to what status the order should be set when processing or voiding a label. For the Local Status settings, we recommend leaving the defaults. For more information on how to configuring an email address and setting up shipment notification emails, you may be interested in the following articles. Click Next.
Add Your E-mail Address(es) to ShipWorks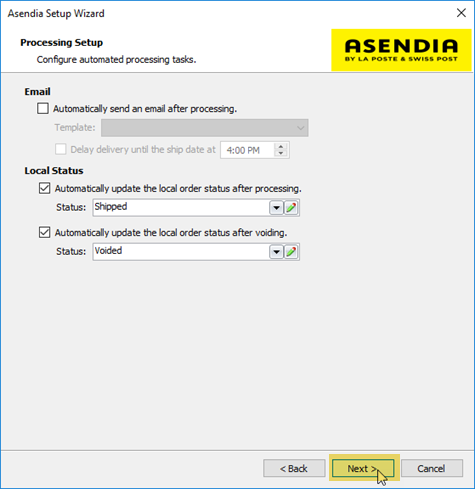 8. Click Finish. Your Asendia account is setup in ShipWorks.
Additional Settings
After clicking Finish you should be on the Shipping Settings screen with Asendia selected. (If not, you can click on the Manage tab, then Shipping Settings, then select Asendia.)
With Asendia selected on the Shipping Settings screen you are able to specify which services you would like to be available to you when configuring an Asendia shipment in ShipWorks. For example, if you never ship using the Asendia PMEI service, you can uncheck this service from the Available Services list so that it does not show as an available service when configuring a shipment.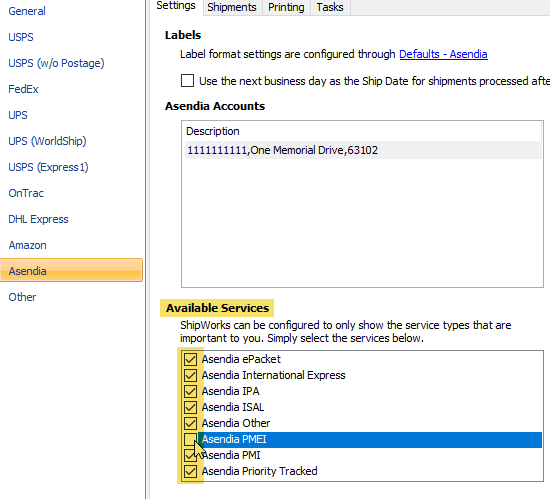 Only the checked services show in the Service: drop-down menu when configuring a shipment.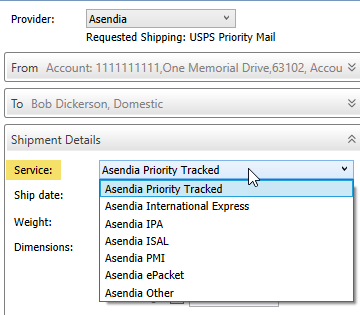 Still Need Help?
Please feel free to reach out to one of our awesome Technical Support Representatives in St. Louis.  We are happy to help.
Have a comment to share about this article? We'd love to hear from you. You must be logged in to your Support Portal account to leave a comment.