Filters: Saved Searches Guide
ShipWorks allows you to save your advanced searches as a Saved Search. When you create a Saved Search, the search is added to the Filters panel so that you can quickly and easily select it whenever you need to obtain the search results without the need to create the advanced search each time you wish to view the results.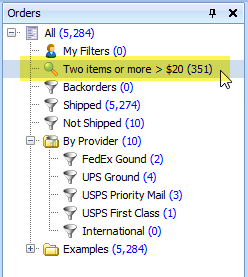 You must also be logged in to ShipWorks as a user that has access to creating and modifying filters.
This article assumes that you are familiar with creating advanced searches in ShipWorks.
Still Need Help?
Please feel free to reach out to one of our awesome Technical Support Representatives in St. Louis.  We are happy to help.
Have a comment to share about this article? We'd love to hear from you. You must be logged in to your Support Portal account to leave a comment.