Enable Remote Connections
ShipWorks allows you to add multiple computers running the ShipWorks software to a centralized ShipWorks database, giving you the ability to run ShipWorks on multiple PCs with each PC connected to the same data source.
This article will guide you through the first requirement for connecting additional computers to the ShipWorks database which is to enable remote connection on the main ShipWorks PC.
Initial Installation of ShipWorks?
Are you in the process of installing and setting up ShipWorks for the first time? if so, the below steps can only be completed after the installation of the ShipWorks software is completed.
If you landed on this article by clicking the link in the ShipWorks install wizard, please complete the installation and then return to this article.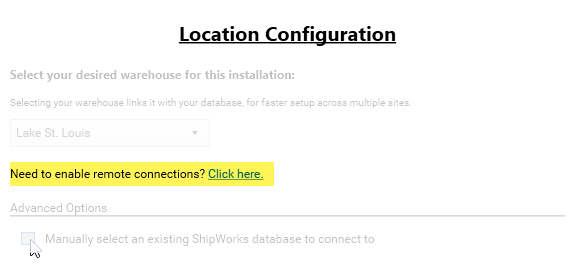 1. On your primary ShipWorks Computer, open ShipWorks and navigate to Manage Configuration.
Which PC is the primary ShipWorks computer?
The primary ShipWorks computer is typically the first PC you installed ShipWorks on. It is the PC that houses the ShipWorks database.

2. On the Database Configuration window, click the Enable support link.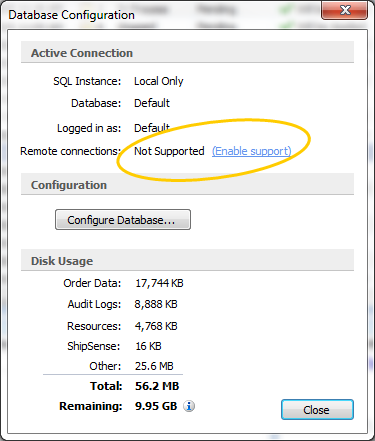 3. Click Next. If prompted, authorize ShipWorks to make changes on your computer.
4. It may take a few minutes for the update to take effect. Once enabling remote connections is completed, you will see that Remote Connections: are now supported. Click Close.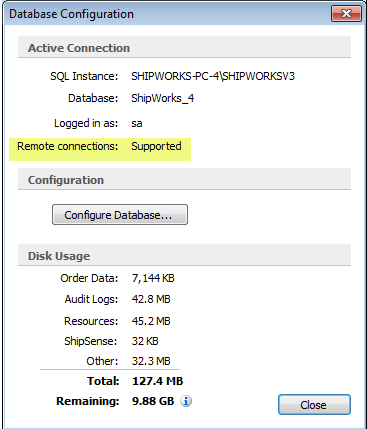 Still Need Help?
Please feel free to reach out to one of our awesome Technical Support Representatives in St. Louis.  We are happy to help.
Have a comment to share about this article? We'd love to hear from you. You must be logged in to your Support Portal account to leave a comment.