Submitting a Help Ticket to ShipWorks Support
Need help? Please reach out to our amazing support team. Here's how:
1. You can create a Support Request Ticket with the ShipWorks Support team by completing the form available here: Create a New Support Request.
2. You can send us an email to support@shipworks.com.
3. You can also give us a call at 800-952-7784. We are here to help Monday through Friday, 7am to 7pm Central Time.
Opening a Support Request Ticket
1. Click here to launch our Contact Us page. Or, you can click the Support button that is always located at the bottom right corner of the Support Portal.

2. Enter your contact information. Please be sure to include the contact email address (if you are not logged in to your Support Portal account) your name, and the phone number at which our support team can reach you most easily.
3. Enter a Subject that describes your issue, like 'Labels aren't printing'.
4. In the Description section, please describe how it is that our support team can help you. Please be as descriptive as possible. The more our support team knows the better that they can assist you.
5. If you have an attachment, such as a log file, that you believe will be helpful in quickly solving your support issue, use the Attachments section to attach your file.
5. Click the Submit button to create your support ticket. One of our awesome Customer Care reps will reach out to assist you.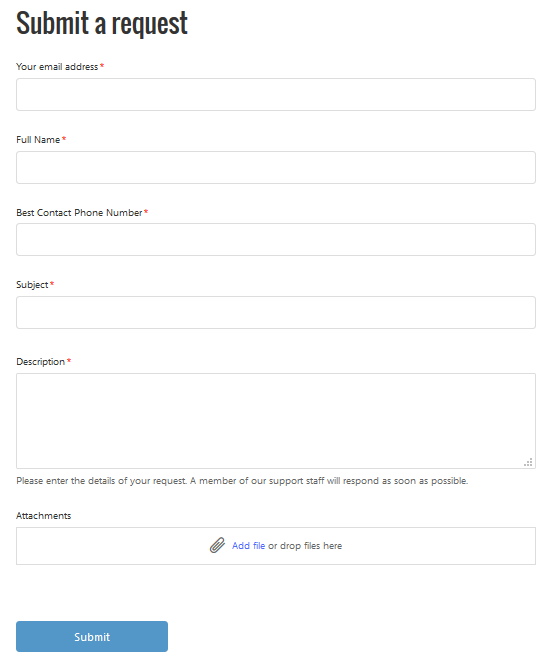 What Now
After you've submitted a ticket, one of our Technical Support Representatives will respond to you as quickly as possible via email and/or telephone.
With a Support Portal Account, you can log in and monitor the status of your support requests. Click here to learn more.
Still Need Help?
Please feel free to reach out to one of our awesome Technical Support Representatives in St. Louis.  We are happy to help.
Have a comment to share about this article? We'd love to hear from you. You must be logged in to your Support Portal account to leave a comment.