When you disable a store in ShipWorks it disallows processing shipments and downloading new orders for that particular store but keeps all of the information associated with the store.
If you ship seasonally you might only use ShipWorks for part of the year. During your off-season it makes sense to disable the store. This way, you can still access your records, but won't actively download orders from your online marketplace.
Until you cancel your account you will still be charged a monthly fee for your ShipWorks subscription.
2. Select the store you want to disable and click Edit. (In the example below we've selected our Shopify store.)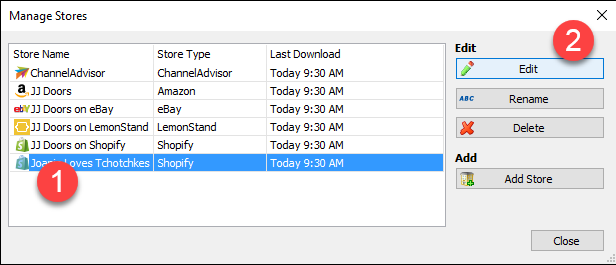 3. Select Store Settings from the left-side menu and enable the I do not actively ship or download with this store checkbox.
4. Click OK and Close.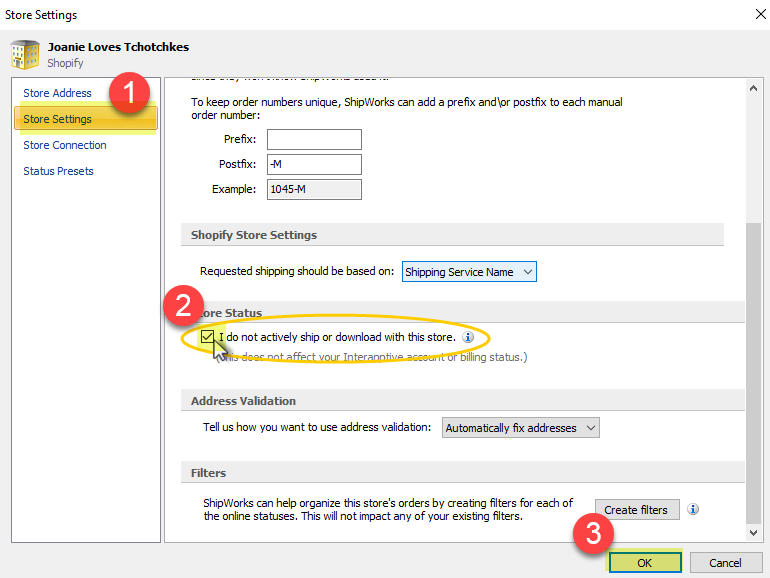 Your store is now disabled.
You can choose to display disabled stores in your Manage Stores window (Manage Stores). Enable the Show Disabled Stores checkbox to see every store you've disabled in ShipWorks, like in the example below. Disable the Show Disabled Stores checkbox to only see your active stores in this window.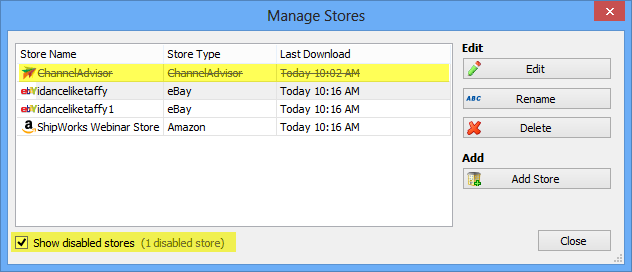 Still Need Help?
Please feel free to reach out to one of our awesome Technical Support Representatives in St. Louis.  We are happy to help.
Have a comment to share about this article? We'd love to hear from you. You must be logged in to your Support Portal account to leave a comment.