Emailing a Standard Label
This article discusses how to email a standard label (to whomever -- yourself, to a customer, or to a dropshipper) directly from the ShipWorks program. These instructions assume that (1) you have processed a shipment and (2) the shipment's label was processed in the standard format. Important: You can only email standard format labels. If you try to email a thermal label, the body of the email will be blank.
1. In ShipWorks, right-click an already processed order.
2. Select Compose > Email > Labels > Standard.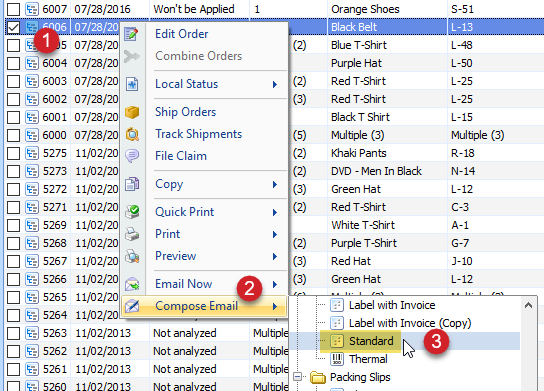 3. A Compose Email dialog box appears. Enter the recipient's email address in the To field, and modify any other settings (as necessary).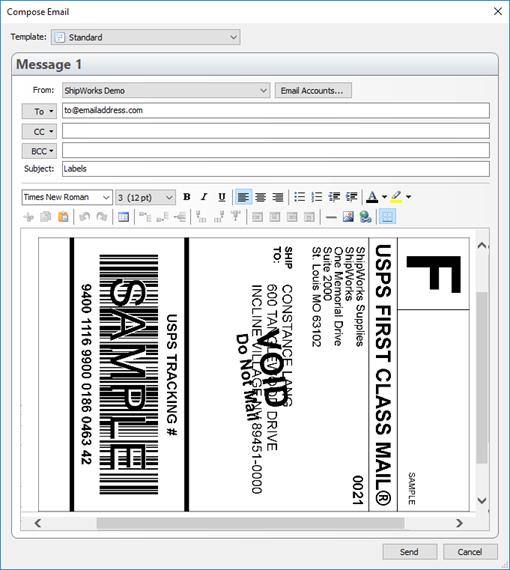 4. When satisfied with your email's content, click Send.
You might notice another email option displayed in ShipWorks called Email Now.

The Compose Email option will display a dialog box (Example 1.2), which will allow you to modify the body of the email.
The Email Now option automatically emails all of the labels associated with that order. You won't see the email before sending it, and you will not have a chance to make modifications. The Email Now option sends an email to whatever address is specified on your Standard (label) template's default setting.
You can modify this setting by navigating to Manage Templates Labels Standard Edit Settings Tab Email. Use the drop-down menu to select the billing address or shipping address associated with the order. You can also use the textbox to enter an email address (for example, if you needed to send all labels to a specific warehouse). The recipient listed here will always receive an email whenever the Standard (label) template is emailed.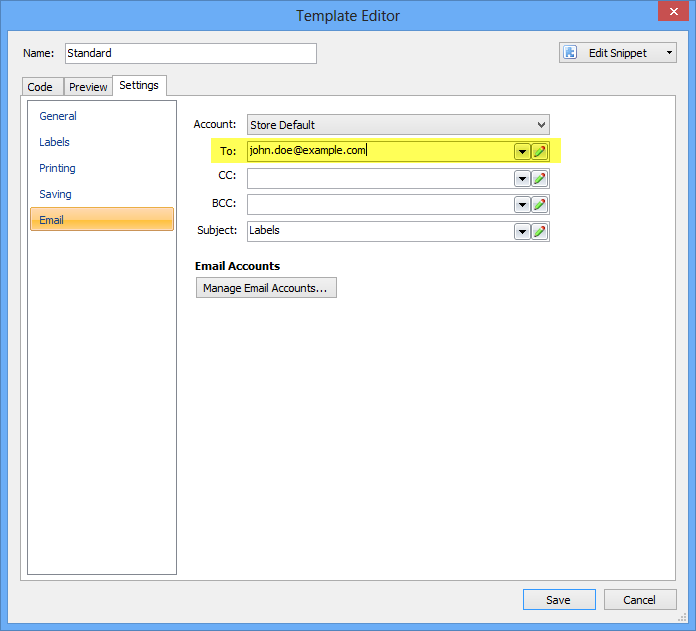 Still Need Help?
Please feel free to reach out to one of our awesome Technical Support Representatives in St. Louis.  We are happy to help.
Have a comment to share about this article? We'd love to hear from you. You must be logged in to your Support Portal account to leave a comment.