Filter Orders by Shipment Delivery Status
ShipWorks gives you the ability to filter orders by a shipment's delivery status so that you can monitor which orders were delivered to your customers. It is also possible to filter orders that have delivery exceptions.
This article will guide you through how to filter orders by delivery status. Click here to learn more about delivery statuses in ShipWorks.
Please ensure that you are logged in to ShipWorks as a user with rights to create Filters.
This article will guide you through the steps to create a filter to show orders with a shipment in the Delivered status. When creating your filter, you can select any delivery status that best suits your needs. You can also create more than one delivery status filter so that you can view orders with shipments in various delivery statuses.
Click the New Filter button.

Enter a name for the filter into the Filter Name: field. Then, click the Next button. For this example we will name the filter Delivered.

Click on the second Add Condition button. A new line Provider Equals USPS will be added.

Click on the blue text Provider and select Delivery Status. Delivery Status Equals Unknown will be displayed.

Click the drop-down menu for Unknown and select Delivered. (If you would like to displaye orders with a different delvery status, select that status instead of delivered.)

Verify that your filter is configured like the below image. Then, click the Next button.

Click the Finish button. Then, click Close.
The filter will now be displayed in the Filters panel. When the filter is selected, orders with a shipment that has a delivery status of Delivered will be displayed.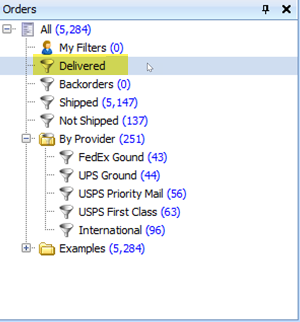 Still Need Help?
Please feel free to reach out to one of our awesome Technical Support Representatives in St. Louis.  We are happy to help.
Have a comment to share about this article? We'd love to hear from you. You must be logged in to your Support Portal account to leave a comment.