Getting Started with International Shipping
Moving into international markets is a big step for a growing business. It can seem intimidating, confusing and perhaps too expensive to start. This guide will go through what you need to know about shipping beyond the borders in simple terms, the forms and taxes expected, and how to utilize ShipWorks for your international shipments.
Let's start by going over the major difference between domestic and international shipping.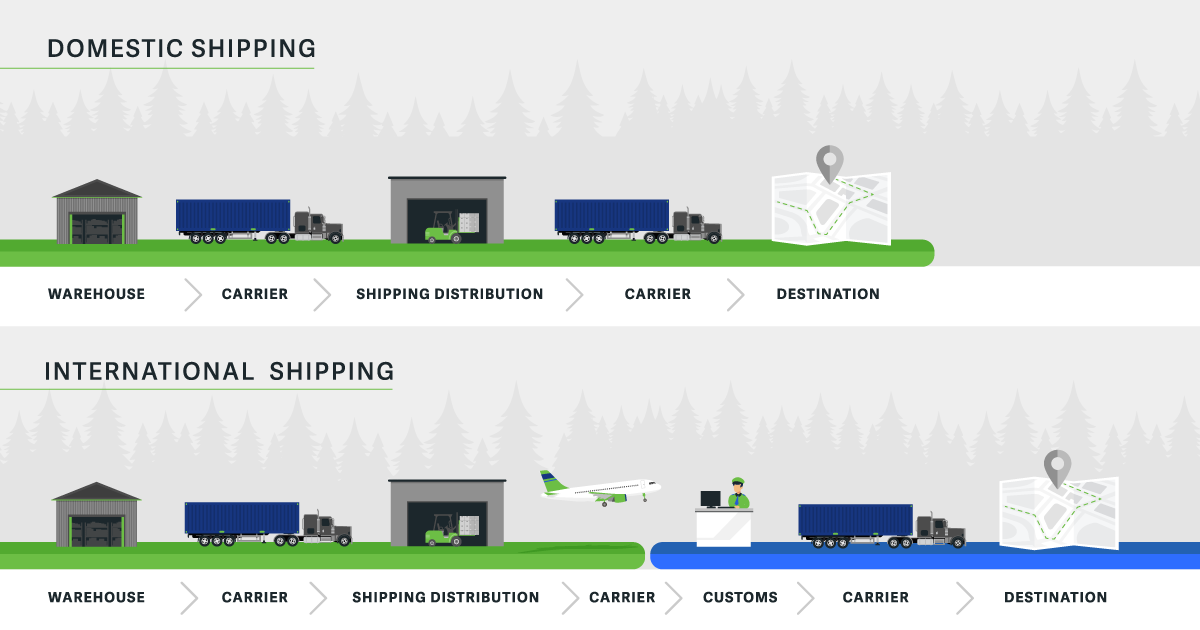 Customs
The very basic purpose of customs is screening incoming products to ensure they comply with the laws of the land and can be taxed appropriately. How do they do this without opening your packages? Customs forms! (Also known as Commercial Invoices, Declarations, etc.) These forms declare what the package contains, how much it costs, where it came from and where it should go.
These are a series of considerations to take before picking a carrier or filling out forms.
3. Picking a Carrier
Arguably, one of the more challenging things to decide is which carrier you want to use for international shipments. Each carrier has their own advantages for international shipments.
The major things to consider beyond price are:
Availability in the destination country

Ability to export your particular product

Time it takes to deliver

Features for International shipments such as insurance or express delivery

Whether the whole process is handled by the carrier or if it changes hands after customs
To help with this research, here is a list of the carriers within ShipWorks that offer International services:
Mini-FAQ
Q: What is a consolidator service?
A: Consolidation will put multiple shipments into one large cargo shipment and ship everything in a larger container. This is a good solution if you have a high volume of international orders.
ShipWorks' goal is to make the process for international shipping as seamless as it is for domestic shipping.
An international order will have custom declarations in the order details. It will be filled in with all your items' harmonization codes, weights, and dimensions (adding international shipping details to your product records will ensure these details are filled in automatically).
Carriers have two primary methods of handling customs: Electronic Submission or Printed Hard Copy.
Carriers that support electronic customs will send all custom information to the customs office for you. The label will have an icon on it to denote that customs information was sent. There is generally no further action necessary on your part.
Carriers that do not have electronic customs require you to print out custom forms and include them with the shipment. You can print your customs forms and/or Commercial Invoice from ShipWorks when creating the label.
Note
Some carriers like USPS print customs directly onto the label so there is no need to print an additional form.
Q: Where can I find a blank customs form to fill out myself?
A: You can usually find the appropriate forms on the carrier website.
Q: What is a commercial invoice? Is that the same as a customs form?
A: A commercial invoice includes all the information necessary to get through customs. It is considered a customs document.
Q: Do I need to include other forms?
A: This will depend on the content and destination of your shipment. Dangerous goods, perishable goods and high value goods can require additional forms.
Check out theses articles to learn even more about shipping internationally in ShipWorks.
Still Need Help?
Please feel free to reach out to one of our awesome Technical Support Representatives in St. Louis.  We are happy to help.
Have a comment to share about this article? We'd love to hear from you. You must be logged in to your Support Portal account to leave a comment.